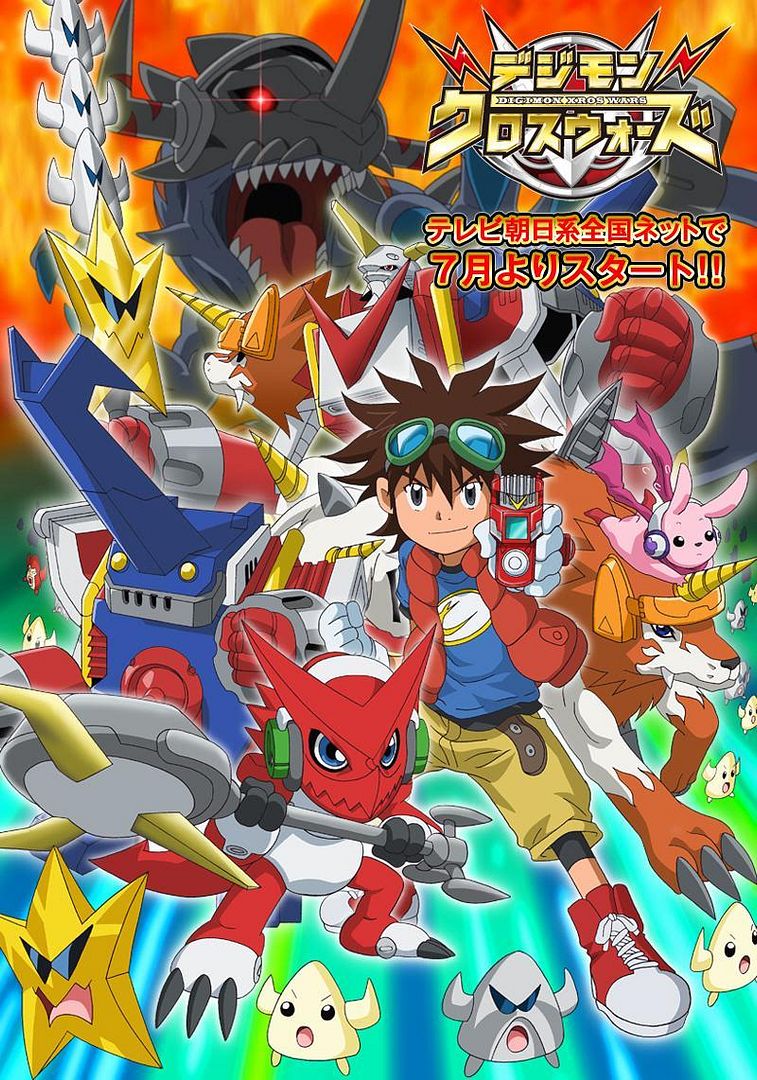 デジモンクロスウォーズ Digimon Xros Wars, pronounce Digimon Cross Wars
Yup, I'm sure everyone heard the news everywhere :)
Digimon Season 6 is coming out on July 6th, 2010!
I'm soo excited XDD
I have been checking the official website from Toei and TV Asahi every day to get the new info for the new series!! XD
It'll be airing every Tuesdays at 7:27pm, Japan time starting July 6th.
Here are more info scans :)
(Not sure who scan this... o.O I do not own this magazine or the scan, I only found it and uploaded it to my photo album >.<)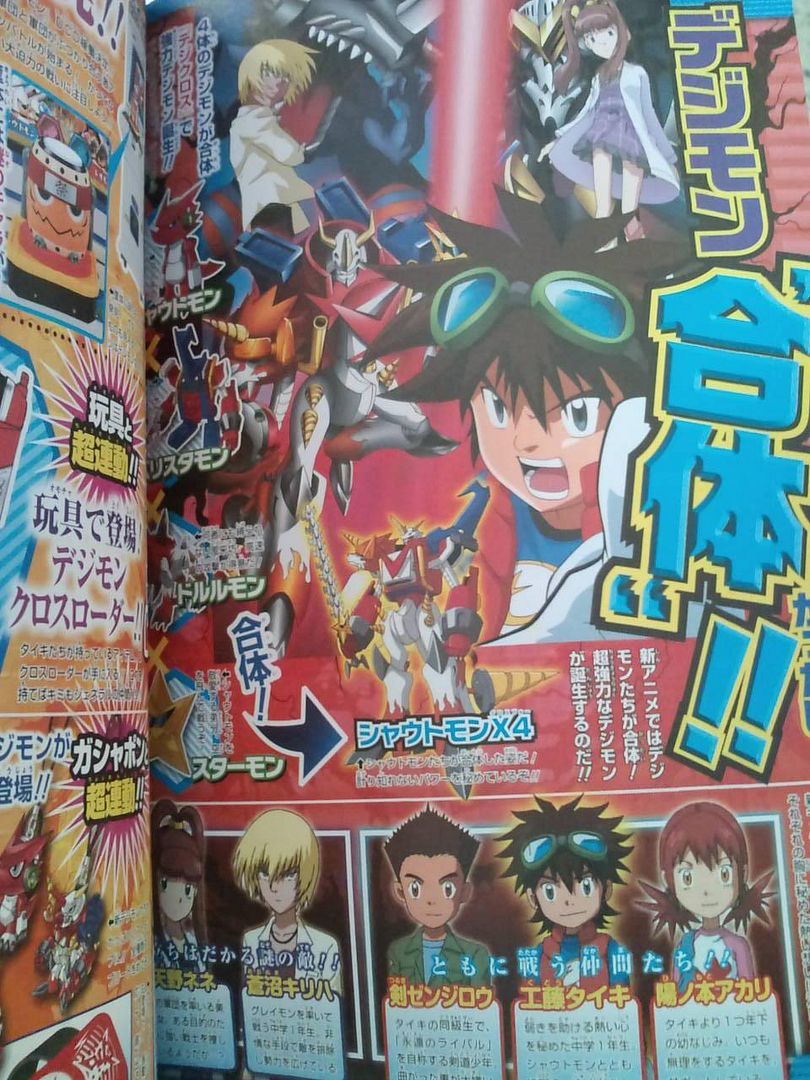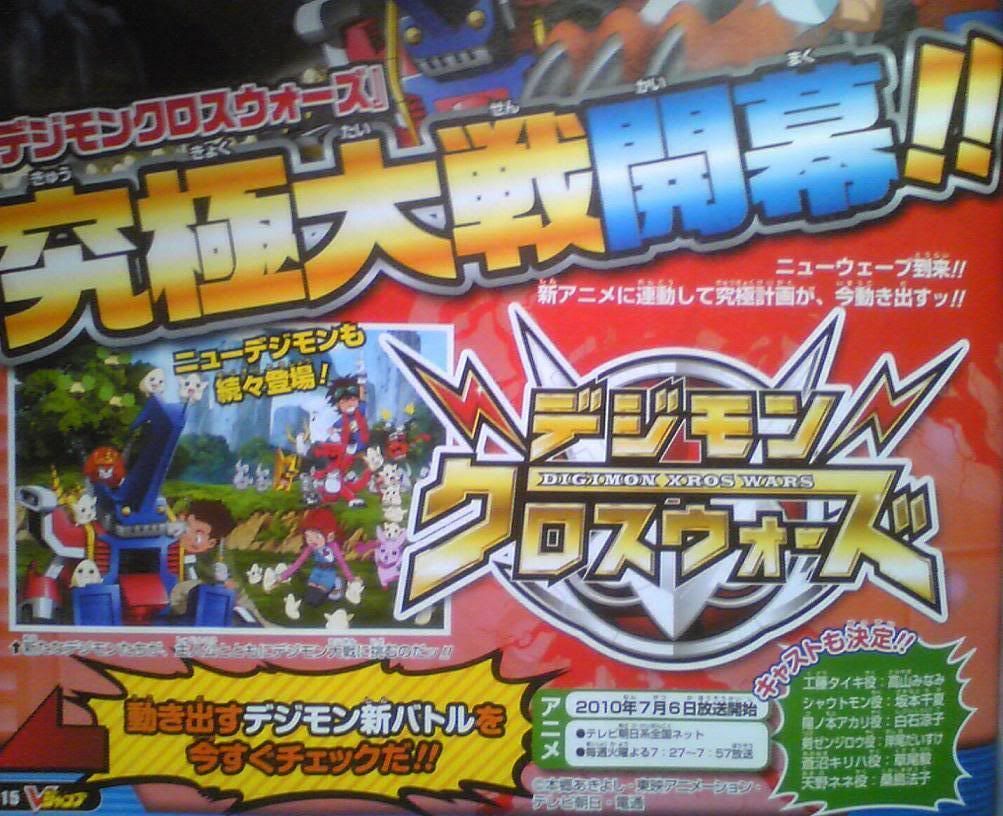 「デジモンクロスウォーズ」2010年7月6日放送開始
テレビ朝日系全国ネット
毎週火曜夜7:27~7:57放送
工藤タイキ:高山みなみ
シャウトモン:坂本千夏
陽ノ本アカリ:白石涼子
剣ゼンジロウ:岸尾だいすけ
蒼沼キリハ:草尾毅
天野ネネ:桑島法子
Translate:
Protagonist:
Kudou Taiki: Takayama Minami (Other voices: Edogawa Conan)
Shoutomon: Sakamoto Chika (Other voices: Agumon from Digimon Adventure 01 and 02)
Hinomoto Akari: Ryoko Shiraishi (Other voices: Sumiyoshi Kanako from Nyan Koi/Andrew Returner from Gundam 00 2nd season)
Tsurugi Zenjirou: Kishio Daisuke (Other voices: Kaname Kuran from Vampire Knight/Loke from Fairy Tail)
Antagonist:
Aonuma Kiriha: Kusao Takeshi (Other voices: Revolmon from Digimon Adventure 02/Asatsuki Kosuke from Spiral~Suiri no Kizuna~/Müller from Gundam Wing)
Amano Nene: Kuwashima Houko (Other voices: Medusa from Soul Eater/Sango from Inuyasha...etc) <- I'm sure everyone knows her >w< (Thanks saya for the info :) ) (all Other voices information are from Wikipedia) Official Website:
TV Asahi
Toei Animation